Margriet nr. 20 (2014)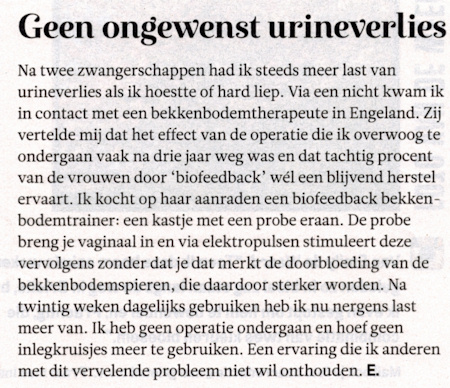 Bron: Margriet nr. 20 (2014)
Magazine Gezond Nu (mei 2014)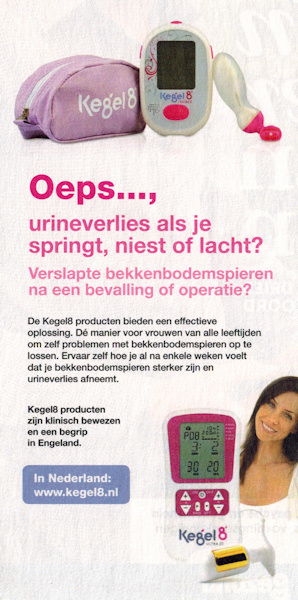 Bron: Magazine Gezond Nu (mei 2014)
Magazine Gezond Nu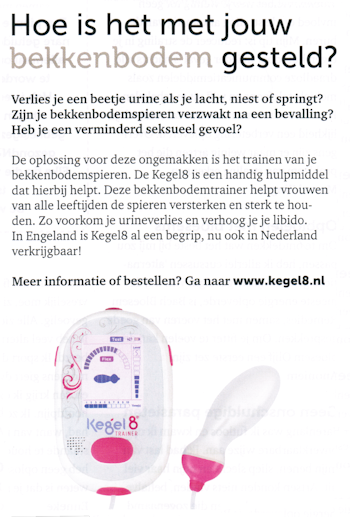 Een sterke bekkenbodem is zeer belangrijk
Jane Curtis, bekkenbodemtherapeute voor de Engelse National Health (Staats-ziektekostenverzekering) aan het woord:
'Een sterke bekkenbodem is een vereiste bij het voorkomen van een bekkenbodemverzakking. Het woord bekkenbodemverzakking omvat verzakking van de vaginawanden, blaas, baarmoeder en darmen. Verminderd seksueel gevoel, verminderde libido, stress incontinentie, het niet in kunnen houden van winden en ontlasting, dit alles is een gevolg van slappe bekkenbodemspieren. Sommige vrouwen voelen ook pijn tijdens geslachtsgemeenschap.
Dit zijn dikwijls voorkomende problemen en lopen uiteen van een hinderlijk ongemak tot een verandering in levensstijl en veel ellende.
Recente studies laten zien dat 80% van alle vrouwen in hun leven te maken krijgen met een vorm van bekkenbodemproblemen.
Conservatieve behandeling van bekkenbodemproblemen heeft in de afgelopen tientallen jaren een enorme ontwikkeling doorgemaakt, zodanig dat een chirurgische ingreep ter behandeling van een verzakking en incontinentie, in vele gevallen, voorkomen kan worden.
Het Britse Department of Health's National Institute of Clinical Excellence (NICE) beveelt een eerstelijns conservatieve behandeling aan voor deze problemen.
Neuromusculaire Electro Stimulatie van de bekkenbodemspieren (NMES) is een effectieve behandeling van bekkenbodemdisfunctioneren. Een lage frequentie van 10 Herz zal de 'langzame' spiervezels stimuleren en een hogere frequentie zal verbetering geven aan de snelle bekkenbodemspierweefsels. De behandeling wordt gegeven via een vaginaal ingebrachte probe die aangesloten is op een klein neuromusculair electro stimulatie kastje.
Deze kan ook individueel geprogrammeerd worden door een specialist, op basis van het individuele Electromyography (EMG) onderzoek. Afhankelijk van de mate van spier disfunctioneren bij aanvang van de behandeling kan het programma tijdens de behandeling gewijzigd worden. De duur van de behandeling varieert sterk en hangt af van de mate van disfunctioneren. Tijdens de behandeling wordt de voortgang getest.`
Jane Curtis werkt momenteel als bekkenbodemtherapeute in het Dorset County Hospital en maakt deel uit van het Pan Dorset Specialist Pelvic Floor Team (een team van artsen en therapeuten gespecialiseerd in bekkenbodems)
Jane heeft zich in de afgelopen twaalf jaar verdiept in het disfunctioneren van darmen en blaas en heeft in 2007 een programma opgezet dat gericht is op de conservatieve behandeling van de bevolking van West Dorset. Dit programma wordt nu in de gehele provincie Dorset uitgevoerd, in het oosten in Poole Hospital.
Zij heeft lezingen gegeven over conservatieve behandleing van bekkenbodemproblemen op conferenties van zowel artsen als verpleegkundigen, waaronder The Royal College of Surgeons (het koninklijk Instituut van Chirurgen) en Oxford Pelvic Floor Masterclass (een masterclass op bekkenbodemgebied in Oxford)
Geplaatst in Women's Health op 29-06-2012 door Stephanie Taylor.
Hieronder staat de tekst uit het originele artikel:
A Strong Pelvic Floor is Crucial
Jane Curtis Pelvic Floor Clinical Nurse Specialist CNS RGN DPSN
A strong pelvic floor is crucial for the prevention of pelvic floor prolapse. This encompasses prolapse of the vaginal walls, bladder, uterus and bowel. The weakening of these muscles can also lead to diminished sexual sensation and reduced libido, stress incontinence, a reduction in bowel and flatus control. Some may also experience discomfort during intercourse.
Jane-photoThese are not uncommon problems and can be anything from a minor aggravation for sufferers to the cause of major changes in lifestyle, distress and discomfort. Recent studies have shown that 80% of women suffer with symptoms of pelvic floor dysfunction during their lifetime.
Conservative treatment of PFD has developed significantly over recent decades to the extent that surgery for correction of prolapse and incontinence can, in many cases, be avoided. The Department of Health's National Institute of Clinical Excellence (NICE) recommends 'first line conservative treatment' of these problems.
Pelvic neuromuscular electrical stimulation (NMES) provides effective treatment in PFD symptoms. A low frequency of 10hz will strengthen the 'slow twitch' fibres while a higher frequency improves the performance of the 'fast twitch' pelvic muscle fibres. Treatment is delivered through a small hand held pelvic neuromuscular stimulation Unit which can also be programmed by a specialist according to individual electromyography (EMG) results prior to beginning the treatment. Depending on the degree of muscle dysfunction at onset the programme settings may be adjusted as the course progresses. The duration of treatment is often variable and determined by the preliminary EMG tests. Further EMG tests are performed as treatment progresses to monitor the pelvic floor pressures.
Jane Curtis currently works as the Pelvic Floor Clinical Nurse Specialist at Dorset County Hospital and is part of the Pan Dorset Specialist Pelvic Floor Team.
Jane has had a specialist interest in bowel and bladder dysfunction for over twelve years and was appointed in 2007 to set up and develop the specialist conservative Pelvic Floor Service for the population of West Dorset. The Service is now part of a global Service for Dorset incorporating Poole Hospital in the east.
She has spoken nationally on conservative pelvic floor treatment at both nursing and medical conferences including the Royal College of Surgeons and Oxford Pelvic Floor Masterclass.
This entry was posted in Women's Health on 29/06/2012 by Stephanie Taylor.
Kegel-oefeningen *, maar dan echt, door Charlotte Pearson
Lichte urine incontinentie is een teken dat je een zwakke bekkenbodem hebt, tevens is het de oorzaak van die 'het voelt niet meer als vroeger' intieme momenten. Hoe vaak je je `aanspannen en ontspannen`oefeningen ook doet, als je bekkenbodem zwak is zal deze niet sterker worden en raak je behoorlijk gefrustreerd.
De Kegel8 Ultra is een elektronische bekkenbodemtrainer waarmee je super resultaat kunt bereiken. De Kegel8 Ultra is op dit moment de beste bekkenbodemtrainer die er in de wereld te koop is.
Wat maakt 'm zo anders?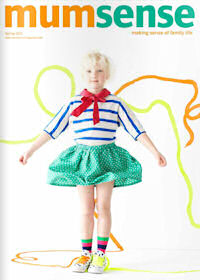 Je bekkenbodem bestaat uit spiervezels en zenuwen die door de Kegel8 Ultra gelijktijdig op verschillende niveau`s worden getraind, de meest effectieve stimulatie die er bestaat.
We kennen allemaal de tekenen van een zwakke bekkenbodem, een paar druppeltjes verliezen als we moeten lachen, net niet op tijd bij de wc zijn, om nog maar niet te spreken over die slappe orgasmes. Maar voor veel vrouwen is het veel ernstiger, een zwaar gevoel in de bekkenbodem kan een eerste teken zijn van een verzakking en een verontrustend percentage van 40% van alle vrouwen van vijftig en ouder zullen hier last van krijgen.
Overgewicht, te weinig bewegen en leeftijd vormen een groot gevaar voor de bekkenbodem en met regelmatig gebruik van de Kegel8 Ultra kan je er zelf voor zorgen dat je niet bij die 40% gaat horen.
Veel van ons hebben moeite met bekkenbodemspier-oefeningen, doen ze niet goed of erger nog, vergeten ze helemaal.
Met de Kegel8 Ultra zijn bekkenbodemspier-oefeningen makkelijk, je kiest het programma dat op jou van toepassing is, brengt de ergonomische probe in en gaat ontspannen zitten terwijl je bekkenbodem de beste training krijgt die je maar kunt bedenken!
* Kegel-oefeningen zijn bekkenbodemspier-oefeningen.
Hieronder staat de tekst uit het originele artikel:
Mumsense Magazine - Loves Kegel8
Health Sense - Charlotte Pearson makes sense of how to have a healthy spring.
LAI – light adult incontinence is a sign that you have a weak pelvic floor, so too are those "It doesn't feel the same anymore" intimate moments. No matter how many times you practice your "squeeze and release" exercises if your pelvic floor is weak, it won't get stronger and you'll become demoralised…
Top-of-the-range, the Kegel8 Ultra is an electronic pelvic exerciser designed to give you the most effective results ever. The Kegel8 Ultra is by far the best pelvic exercise machine available in the world today.
What makes it so different? Well it exercises your muscles on simultaneous levels, rather than the single level of the Kegel8 Tight & Tone. This means that the muscles fibres and nerves that make up your pelvic floor get the most effective stimulatione very time.
We all know the signs of pelvic floor weakness, a few laughter leaks, not quite making the loo in time, not to mention those illusice orgasms. For many women however, the scenario is far more serious; "heaviness" in the pelvic region can be the first sign of a prolapse and a staggering 40% of women will have some form of prolapse by the time they are 50. Lifestyle, age and weight-gain pose a great threat to the pelvic floor and regualr use of the Kegel8 Ultra will ensure that you maintain a toned and supportive pelvic floor for the rest of your life. Many of us find pelvic floor exercises really difficult, feeling as though we are just not doing them properly or worse still, we just forget ot do them.
The Kegel8 Ultra makes pelvic floor exercising easy; simply choose the programme that's right for you, insert the ergonomic probe and relax as it gives your pelvic floor the most thorough work-out ever!
It features 14 Physiotherapist designed programmes to combat conditions such as light adult incontinence, prolapse, lack of sensation and muscle looseness. Lasting between 20-45 minutes each programme exercises the muscles and fibres with your pelvic floor, invigorating and strengthening them – you'll notice amazing results in weeks. The sensation is totally painless and you'll be delighted with the new-found control and strength.
The Kegel8 Ultra is particularly recommended if you suffer with stress incontinence, urge incontinence, prolapse, or have undergone surgery for any of these conditions. It is also advised for pelvic pain, lack of sensation and getting back into shape after the birth of a baby.
Charlotte Pearson for Mumsense Magazine, Spring 2012 edition.